For my sister's baby shower (which happened when Ethan was still under a year old) ago I gave her a basket full of my favorite baby products with little notes attached to each product explaining why I liked it. A year and a half  later for my cousin's shower I did the same thing. When my next-door neighbor had a baby, I took my file with my product notes, updated it, and gave her the print-out. She then, in turn, copied it and sent it to one of her pregnant friends. I've since added to it and revised, sent it out to more friends, and ultimately thought I would make it more accessible by posting it here. As with all baby advice, you should take it or leave it, or modify it for your family's needs. Only YOU know what's best for your family.
Note: I do not receive any kind of kick-back from any of the companies that produce the products mentioned below. These are purely personal recommendations… in alphabetical order.

Aquaphor
It says it is for babies, but I found this stuff to be amazing for chafed and sore nipples when I was nursing Ethan. I have a slight allergy to wool, so the use of lanolin was out of the question. Aquaphor is a great alternative and has the added bonus of being great for dry lips as well! Unfortunately,though, it didn't cut it for me the second time around. I used Motherlove Nipple Cream (see below). I should point out, though, that we used the Aquaphor (when teething started) quite liberally for Henry's face so he didn't dry his already sensitive skin out while lying in his own drool in his crib!
Boudreaux's Butt Paste
This stuff is great for diaper rashes. Take care, though, it will stain clothing! This is why I only used it on an existing diaper rash. I had a big tub of it and when Ethan showed any signs of a rash, this got used in place of the Desitin… and I really slathered it on. More often than not, the next morning the rash is obliterated. When Henry and Miranda were younger, I used medicated extra-strength Desitin instead, as it was cheaper. Then I switched to Triple Paste because Miranda was prone to super awful diaper rashes for a while. Note: the "green" version of Boudreaux's Butt Paste isn't thick enough for my taste. It is almost runny, and is a pain the neck to clean off your fingers after application. Not worth it, in my opinion.
California Baby Bath Products

With Ethan I used Johnson and Johnson (or the generic of their products), and of course that was fine. With Henry and Miranda, I discovered the California Baby line of products and I am a true convert. When they were freshies, we used the Super Sensitive Shampoo and BodyWash with the Super Sensitive Everyday Lotion. Since babies are very sensitive to products with too much fragrance or 'special' ingredients, this lotion is great for Mommy to use for the first few weeks of Baby's life. You'll be washing your hands so much you'll be thankful for the pump dispenser! Now we use the California Baby Calming Shampoo and Bodywash coupled with Johnson and Johnson baby lotion (because we have so much of it that my mother bought when I was pregnant). Note: the only California baby product I've tried that I am not crazy about is the diaper rash cream. Just never worked with my rash-prone wee ones.
California Baby Calendula Cream
This stuff is amazing, and well worth the cost. Henry had pretty intense dry skin on his face, in addition to cradle cap, and this stuff kept it at bay. We still keep it around for particularly dry spots as he also has eczema on his legs and tummy. I like using it on my elbows!
California Baby SPF30+ Sunblock Stick

You will know what I mean when I say that applying sunscreen to a baby's face can be stressful once you try it yourself on your first child. I was so worried about getting the stuff in Ethan's eyes. That is why this stick is so great. It isn't the highest SPF, but let's face it, you're not going to expose your baby's skin to the sun for very long in the beginning as it is! (You're not even going to use sunblock the first bunch of months, anyway!) We used this coupled with the SPF30+ Sunscreen Lotion until the kids were a little over a year old (now we find we don't need the stick, but for a targeted area like a scar, it might be good to have on hand).
California Baby SPF18 Moisturizing Sunscreen
When I'm taking the kids out for just a quick trip to the store, or to pick up their big brother from school, I reach for this SPF18 sunscreen instead of the SPF30. For one, it is less expensive (much less), and for two, I don't need to pull out the whole arsenal of sun protection for a trip in the car. It spreads very easily and comes in a no fragrance option. The one with fragrance is kind of strong. The kids don't mind it, but it got to me, which is why I switched to the no fragrance.
Cornstarch Baby Powder
I really only used powder with Ethan when it was hot and/or muggy out. This time around I use it on a tush that needs drying before cream is applied, or I just use the powder if I'm not using cream. The cornstarch kind doesn't 'gum up' as much. People say a good trick is to put it in your hand before applying it, so you and baby don't end up breathing in the powder. Since we have leftover Johnson and Johnson's containers, we use that in the house. For my diaper bag I have California Baby Calming Non-Talc Powder. Try not to pile up on the powder with little girls… you don't want to, erm, gum up the works.
Cotton Balls
So many uses! Our most frequent use of cotton balls when the kids were freshies was for cleaning eyes and eye ducts (clogged eye ducts is pretty common with babies, I hear). Tip: you only need one cotton ball for two eyes, but rip it in half first before wetting with warm water so that each eye gets a 'virgin' cotton ball.
Rapid Relief Desitin (formerly "Creamy Desitin")
A GREAT preventive diaper cream (and you can buy it in bulk at Sam's Club). Use it every night to help stave off diaper rash. Tip: Creamy is much better than regular and the generic is NOT as good as the real deal.
Diapers!
You are gonna need a lot. Buy just two or three packages of the NB size as first, though, because you never know how big your baby is going to get! As far as brand goes, my preference for all my kids has been Pampers Swaddlers (the yellow line that turns green when wet is a great plus for the Pampers), moving into Pampers Cruisers as they get older. Beggars can't be choosers, however, so when I was given a whole bunch of Huggies for free, I gladly took them. Huggies are good, too – I just prefered Pampers when the kids were younger (I think they are softer). Miranda had some pretty bad blow-outs when she was two and three months old. I found the Huggies, in that case, were better at preventing leaks. Also, Pampers has changed their diapers – they aren't as bulky, but they are still just as effective. Less material to contribute to landfills. I'm actually turning back toward Huggies nowadays — the Huggies seem to wrap around their skinny little bodies much better. Generic diapers are definitely NOT as good as brand, in my experience (I've tried several).
Diaper Dude Diaper Bag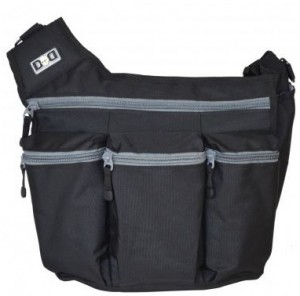 I must have at least half a dozen diaper bags in my house – more if you count the free ones you get in the hospital. After Henry and Miranda were born my Mom bought me a backpack version, and while that was good for a bit, I found myself going back to the Diaper Dude bag (the original black one – they have lots from which to choose now) I had used when Ethan was a baby. It is a messenger style bag that is SO easy to just schooch around to your front when you need to access something. There is a pouch on the inside for diapers and a changing pad, as well as an inside zippered section. The three outside zippered sections are quite useful (I use the larger middle one for my wallet), and the cell phone section on the front of the strap is essential. There is PLENTY of room in it for the needs of one baby and for the needs of two if you are out for just a little bit. (When we are on longer outings with all three kids, more stuff is required, so things like snacks, etc. just get put into a different bag anyway.)
Dr. Brown's Bottles

With Ethan, I nursed him 95% of the time. Since he only took bottles once in a while, we just used the bottles that worked with my Medela pump. Since Henry and Miranda were exclusively bottle-fed from very early on (both breastmilk and formula) we quickly learned that the Medela bottles weren't going to cut it – especially for Henry, who we dubbed the Duke of York ("York" being our word for spit-up). The Dr. Brown's bottles reduced his massive post-feeding spit-ups drastically almost immediately. They are a pain in the neck because there are so many parts, but so so worth it if you have a baby who is a spitter. I bought the Dr. Brown's microwave steam sterilizer on Ebay as well – TOTALLY worth it! If you are going to be pre-mixing formula, I also recommend the Dr. Brown's formula mixing pitcher as it eliminates the oodles of bubbles you getting from shaking.
Gerber Ultra-Thin Nursing Pads

In my opinion, these are the best disposable nursing pads to wear. In the beginning, you may require some thicker ones for at home/when you are trying to sleep, but for everywhere else these pads are great. Tip: Don't be a dufus like I was the first time and use them backwards… ouch! I ended up using washable thick cotton nursing pads the second time around, not because of leaking, but because of pain. I cannot imagine having managed without them. They can be bulky, and may show through certain shirts, but man, I did not care about that much as the pain was my main concern.
Hand Sanitizer
You need something to clean your hands between changing a dirty diaper and nursing in the middle of the night. You have a baby in your arms and you don't want to make 'waking up' noise by turning on the sink… solution: hand sanitizer. Toss the little ones in your diaper bag and your car. The pumps are refillable (Target carries large containers to refill from… Sam's Club has HUGE ones) and the generic is just as good as brand. Tip: the aloe & vitamin E one is less drying to the skin.
Huggies Natural Care wipes
A natural mass-produced baby wipe. You can also use other natural brands, but they will likely be more expensive. I used only these on my kids for the first 5-6 months or so, and then switched to Costco's Kirkland brand. Tip: Save the pop-up dispensers from the Huggies and buy the refill packages. When/if you switch to the Costco brand, you can continue to use the pop-up dispensers. Very handy. Sam's Club's Member's Mark brand is also good… a little thicker than Kirkland. That is what we use almost exclusively now. Oh! And Target's brand has a good size for popping in your diaper bag (fits very nicely in one of the outside zippered pockets of the Diaper Dude Bag, btw).
Infants' drops of concentrated Acetaminophen (Generic)
This is the same as Infant Tylenol. Tylenol works faster than Motrin for pain but doesn't last as long. Generic is just as effective as Brand and oh-so-much less expensive. Concentrated is the way to go as it reduces the amount you have to give to the baby. Tylenol can be given every four hours. Obviously, ask your pediatrician for the correct dose for your child.
Infants' drops of concentrated Iboprofen (Generic)
This is the same as Infant Motrin. I've heard Motrin is better for swelling (think teething) than Tylenol, but takes longer to take effect. It does last longer than Tylenol though. Generic is just as effective as Brand and oh-so-much less expensive. Concentrated is the way to go as it reduces the amount you have to give to the baby. Motrin – given alone – can be given every six hours. Obviously, ask your pediatrician for the correct dose for your child.
The Tylenol / Motrin Ping-Ponging Tip
Hopefully you won't need to use this method for a while, but when teething starts, it might be a savior. My sister gave me this tip as a preventive to pain method for a fever or teething, and I've confirmed it with our pediatrician. You can give both Motrin and Tylenol to a baby as long as you wait an extra two hours between Motrin doses. So it would still be every four hours for Tylenol but every eight hours for the Motrin. Stagger them to get the best effect. For example, I would give Tylenol first as it works faster… let's say at 10am. At noon I would give the Motrin. More Tylenol at 2pm and 6pm and then another dose of Motrin at 8pm. Obviously you need to work out the best timing for your child's sleeping habits, and of course you don't want to constantly be doping up your kid, but when really nasty teething or a fever hits, this is a lifesaver!
Infants' Gas Relief Simethicone drops Generic for Infants' Mylicon
Some babies suck in a lot of air when they nurse and therefore burp a lot. Some babies are naturally really gassy. Some babies are both. This stuff works great to help ease the discomfort that goes along with all of that. Generic is just as good as brand. Tip: keep some in your diaper bag.
Motherlove Nipple Cream

Life. SAVER! I pumped many many times a day for five and a half months the second time around, and the nipple chafing, cracks, and BLEEDING I experienced were a gazillion times more intense than anything I experienced when nursing Ethan. This stuff was AMAZING – really the only stuff that helped at all. Well worth the cost (honestly, I would've GLADLY paid triple).
Nursing Tank Top
I can't stand sleeping in a bra, so a nursing tank top was heaven to me. In the first few weeks of Ethan's life, nursing tanks are pretty much all I wore as they are so much more comfortable than bras. Â Tip: trying to remember what side you nursed on last is a pain in the butt for a sleep-deprived new mommy. I would remind myself of which side I needed to nurse on next by twisting the top of the appropriate side before clipping on (this method will not work with all tops, depending on the clip). It is so much better than a safety pin as it requires only one hand.
Q-tips
Some doctors want you to use alcohol to clean the belly button stub and some don't. If you do, the Q-tip is the best way to do it. 'Nuff said.
Stool Softener
DON'T LAUGH!!! Seriously, who else is gonna tell you this? After giving birth, the idea of pushing anything out of your sore area down there will make you shudder. You will DREAD your first BM. Nature's cruel joke (I'm sure some of the drugs you get in the hospital contribute as well) is to stop you up after having a baby. Even just coughing can be excruciating, so they give you stool softeners almost immediately to cut you a break.
Triple Paste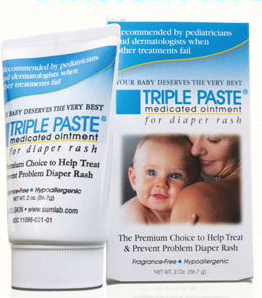 I never needed a super-duper thick diaper cream with Ethan. I think he only ever had one or two very short-lived diaper rashes. Miranda, on the other hand, was highly susceptible to diaper rashes, and so I caked this stuff on at night. It is expensive, but it is AWESOME. Super thick, and lasts lots longer than anything else. The fact that it is also medicated is helpful as well. Just make sure you apply it to a clean and very DRY tushie.
Ultrathin Long Maxi Pads with wings
Polite conversation or even semi-graphic birthing conversation rarely heads into the territory of post-birth bleeding. At the hospital, they set you up with super thick ice-pack maxi pads (the ice-pack part of those maxis are soooo wonderful if you've had a vaginal birth), but you are left to your own devices at home for the time is takes for your body to expel all that blood. The first couple nights at home you might want to use those super thick maxis, but after that, these thin and long ones are excellent. Don't bother with the overnight ones because let's face it, you aren't going to be sleeping through the night for a while.